Healthy Grow infused Holganix
ProBiotic Fertilizer Product Line
*Granular solutions are for turf and plant professionals looking to incorporate active microorganisms in their plant health plan. For best results, combine with Holganix BIO 800+ product line. 

Our ProBiotic Fertilizers are organic or hybrid-organic granular fertilizers that provide a simple solution for turf and plant professionals to boost turf color, thickness and soil health. They embody a synergisitc relationship between high-quality aerobically composted chicken manure (ACCM) fertilizer with microorganisms from Bio 800+.
What's in a bag of ProBiotic Fertilizer?
Filled with microorganisms, an excellent source of carbon to feed microbes, and nutrient enhancers, ProBiotic Fertilizer products support plant and soil health, increase nutrient uptake and promote plant resilience. 

Analysis Available
Whether you are looking for a 100% organic probiotic fertilizer, a hybrid-organic probitoic fertilizer, a starter fertilizer or something else entirely, we have an analysis that will fit the job. Keep in mind, the microorganisms infused in our ProBiotic Fertilizers will enhance the effect of the nutrient analysis. What does that mean for you? A bag of 2-4-3 will be empowered to work at a higher analysis.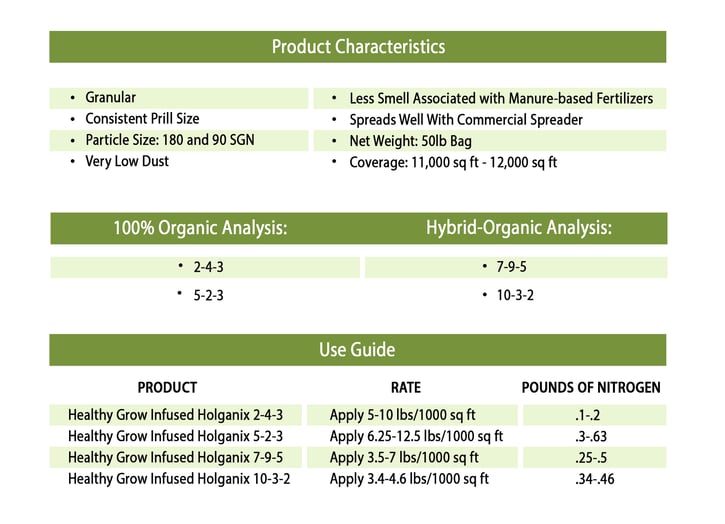 Healthy Grow infused Holganix 2-4-3 - Apply at 5-10lbs per 1,000sq.ft. for .1-.2 lbs of Nitrogen
Healthy Grow infused Holganix 5-2-3 - Apply at 6.25-12.5lbs per 1,000sq.ft. for .3-.63 lbs of Nitrogen
Healthy Grow infused Holganix 7-9-5 - Apply at 3.5-7lbs per 1,000sq.ft. for .25-.5 lbs of Nitrogen
Healthy Grow infused Holganix 10-3-2 - Apply at 3.4-4.6lbs per 1,000sq.ft. for .34-.46 lbs of Nitrogen
Click on the link below for further information on Holganix Organix Fertilizer with Healthy Grow